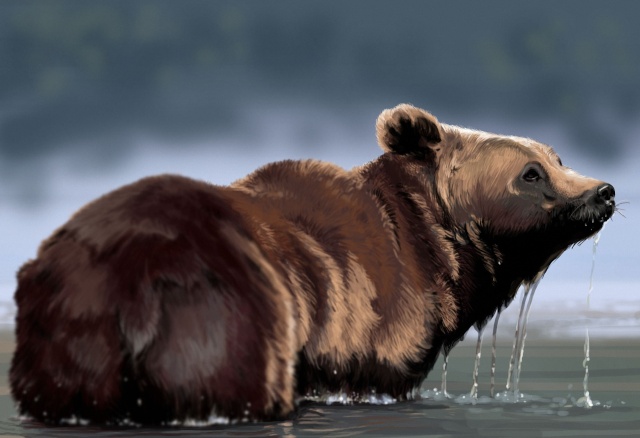 Name: Orso
Age: 5 years
Breed: Kodiak
Gender: Male
Height: 4'4" on all fours, 8'5" upright
Weight: 840lbs
Fur: Light Brown
Eyes: Bluish Black
Abilities/Skills: Orso is a typical bear. He is an excellent swimmer and very capable at catching fish. He is very proud of his ability to scare fish into jumping from the river and catching them in his mouth. His sense of smell is unrivaled and he can smell a berry bush from miles away. He also likes to challenge himself by smelling his friends breath and telling them what they ate earlier that day. Orso, like others of his species, is incredibly strong. He is able to bend small trees and lift boulders. A few of his friends have commented that Orso is unnaturally strong for his size. Orso is a decent runner, but prefers to take his time on the ground. Orso's favorite skill is his ability to sneak into Indian camps and steal their food. Orso has stolen their berries, corn, meat and various other things. He thinks the Indians have superior food and often makes trips to their villages at night to raid. Orso has rarely been caught.
Personality: Orso is a very care free individual. He likes to roam the area of Riverfall in an ignorant bliss. He likes to make friends of the other animals he encounters and has begun to gather a reputation for being one of the few approachable male bears. He prefers not to worry about things and has the patience of a saint. Orso has a great sense of humor and loves to play and go on adventures. Though he is generally friendly he prefers to avoid other bears, especially males. To other animals Orso is enormous, being compared to the size of three wolves, but in fact Orso is actually smaller for his species. Because of this other male bears find Orso as a target and will try to bully him out of his fish or berries. Orso is coming to the age where he will have to begin competing for a mate and prefers to distract himself from the thought as he does not want to engage the other male bears and compete.
History: Orso never knew his father. Some bears are serially monogamous, but Orso's father was not. Orso's mother was kind and raised Orso alone. This was odd as most litters number 3-5 cubs. Orso lived with his mother on the southern edges of Albine and when it was time for him to leav his mother's protection he began to wander north. His natural curiosity and unawareness eventually found him in Riverfall, far from his mother's original home range. Orso does not know the exact path he took to get to Riverfall, but he has so far only been bullied a few times and enjoys the spot near Blue River where not many bears are found fishing.



Posts

: 7


Join date

: 2014-11-27






Posts

: 7


Join date

: 2014-11-27



Similar topics
---
Permissions in this forum:
You
cannot
reply to topics in this forum